__________________________________

Quivering Amidst the Cultural Organisms of Our Own Construction
_____________________________

Catalogue Essay for
Out of Town: the Williamsburg Paradigm
Curated by Jonathan Fineberg
The Krannert Art Museum, University of Illinois
Urbana-Champaign, 1993

The world is a snarl of tissue, nerves, wires, and notions. In such a dense tangle how am I supposed to sense the edges of anything? And now that I've been asked to measure that slippery ganglion, the Williamsburg creative scene, where can I possibly begin? Everywhere I turn in this youthful neighborhood I find a different web of impressions, each a cluster of neurons knotting into a world. What spin should I put on our little bubble of houses and factories --our piggledy perambulator humming on its base of toxins along the stinking shore of the East River? Which of the countless telephone lines holds the true buzz of North Brooklyn, the buzz of our gumption, the plop of our deep-fried Brooklyn humility? Which of the subway lines is the critical link to Manhattan? Is Grand street the true pregnant pause, or is Bedford Avenue the multi-ethnic mix-master?

And whose scene is the scene here anyway? Is it Polish, Latino, Gringo, Korean, Hasidic, or Italian? What about all the Germans on their travel grants? And what about Fort Green? Isn't there an African American cultural storm just south of here? Ask Spike Lee. Ask Betty Carter. Who are we to claim Williamsburg as the imagination's ground zero?

A couple years ago a reporter from the New York Press pulled me aside at an opening at Minor Injury, a cultural space in the heart of Williamsburg. He seemed to be under some uncanny pressure to encapsulate the creative activity here. I told him, look, I don't know. Go ask that hive of artists over by the keg. No, I want it now. Ask Kevin Pyle, he's the Zen director of this gallery --he always has something to say. Give it up, jack. Alright, here's a hunch: Two or three thousand expressive souls have attempted a landing in Manhattan, slipped off its greasy mountains of expensive real estate, fell into the L train, slid under the East River, and come up for air in Williamsburg. And what all us pseudo-Brooklynites are discovering is that there's a peculiar kind of life out here after all. We're impressed by how neat it is to bump into our friends on the street and say hello. That's the Williamsburg Style? Yeah. Hello! Small town stuff. We're peeling off all that art-school dead skin and finding out what our neighbors knew all along. But aren't you worshipping at the altar of middle-class American values?

Abstractions put some people at ease, so I squinted my eyes and gave the reporter a few fat words: Linkage, Interaction, Integration --those are the mechanisms, stranger. It's a jig of cultural organisms co-habitating in a hostile environment. It's crucial to be friendly, to interact with your surroundings. It's a socio-ecological thing. We're all immersed in a local tangle of transmissions, feed-back loops, community meetings, parties, love affairs, more feedback loops. In the midst of this industrial wasteland we're beginning to create our own communications infrastructure. Besides, during a recession bartering and cooperating become necessary again. At least for the majority. It's the nature of living fully somewhere. You're inside the beast, not on top of it with a good view. You're surrounded by a fantastic matrix of political, technological, and psychological tissue. You can be oblivious to it, or you can sink right down into it.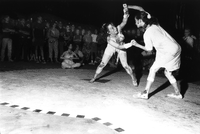 What does any of this have to do with "art"? It doesn't. Many artists are trying to get away from that sort of vocabulary. We're just making things and doing things. We suck up materials from the surrounding plasma of abandoned cars and factories, trigger numerous networks of telephones, hook up some gas-powered generators, TVs, sirens, microphones Ñand integrate it all with our tenderest of feelings. Boom! The Flytrap is born: A burned-out, 20,000 square foot warehouse turns into a seething cultural hydra. Thousands of people, interactive machines, border-free performers, and live music all percolating on a hypnotic hot-plate of poverty-induced good will in the summer of 1991. Like any interactive ritual the days of preparation keyed up our emotions until there was nothing to do but uncoil in a nightlong delirium.
A few days later we watch the whole thing on Hi-8 video and party again. Rolf Carl, Mick Henry, and Anna Hurwitz haul out their spinning projection systems and we're on the verge of a second climax. For months afterwards Gallagher's Ship's Mast Pub is electrified by newly bonded strangers. Rube Fenwick, a producer of performance events at the Mast, moves through the throng with his superfluent grin, toasting in every direction. Medea de Vyse has teamed up with Adil Kureshi, the de facto neighborhood shrink, and is kissing anyone who's name she can remember. A week later the local fanzine, Waterfront Week, appears with its unflappable cartoon by Tony Millionaire depicting all the antics of the week before. Adil makes an appearance as a huge, celestial potato.
So many parties with monstrous, tilting, interactive installations. So many incredible murals painted by the students at El Puente. So many odd gatherings down by the waterfront to push the debris around and make stuff. So many scarecrows built to scare off real estate developers. Anna West campaigns with the Latino and Hasidic communities to rebuild the walkway on the Williamsburg Bridge, and a few months later she and Luisa Caldwell celebrate the opening with a festival: smoking kielbasa and children's art clamoring along the fence; artists in every direction open their studios to the public; Stavit Allweis revs up her nine pinkoid dancers who ooze through the teeming strollers like slugs on a mission. Yvette Helin's speechless, jet-black "Pedestrians" roll by on bicycles. Children, cars, and the J train squeal in unison; a video tape of the event is played back at Stevie's studio and she and her dancers discuss the fine points of performance on dilapidated bridges.
In Williamsburg we have so many overlapping fields of involvement the density of curiousity and interaction is astounding. Looking back over the last four years of cultural activity I can see that the same spirit of participation infused the Sex Salon at Epoch*; open mike nights at the Lizard's Tail and The Ship's Mast; The phenomenal Cat's Head warehouse parties; the outdoor rap orgy, Human Fest; the group shows at Minor Injury, Brand Name Damages, and Four Walls; There was Kit Blakes and Roxy Paine's Tweeking the Human show, an incendiary hive of interactive machines spread between Minor Injury and Brand Name Damages. The rock and performance clubs which have emerged here in the last five years have also invited a kind of unslick, multimedia involvement ÑThe Bog, Keep Refrigerated, Arcadia, Quiet Life, Room Temperature, El Sensorium, The Green Room. The dancing has been strangely genuine, and intense.
I have seen a lot of drunken people attempt to graft the recent history of Manhattan's East Village onto Williamsburg. They assume that any of the area's charm and progress is due solely to that magic dragon, "gentrification." The word is wielded like some kind of wand which you wave over complex neighborhoods, turning them into tidy hierarchies. But get out the electron microscope and you find quite a lot of neighborhood tissue growing out here -with webs of power extending in every direction like capillaries. When the true gentrifiers turn up -the real estate developers- they'll have quite an organized neighborhood to contend with. The recession has provided plenty of lead time.
It goes without saying that the Latino, Italian, Polish, and Hasidic cultures in Williamsburg have not needed lifestyle guidance from the recent influx of creative professionals. On every block there are very active restaurants, clubs, churches, and synagogues punctuating the sidewalks like sizzling circuit boxes. The Grand Street Waterfront Festival, an annual Latino gathering, has encouraged artist's to dive into the fiesta with our Weird Thing Zones, face painting, and Weenie Putt-Putt courses. Medea de Vyse, the cross-dressing enigma, was even permitted to dish out her shoeless ode to sexual liberation up on the Latino stage.
Bounded by an expressway, a bridge, and the East River, North Brooklyn has an unusual sense of identity. Community networks weave thickly here. Hanging out on the street with a couple of cold ones and your neighbors is a regular tribal custom: children are always included. Take Filmore Place, the total hang-out-and-play street. It hasn't changed a bit since the 1950's when Henry Miller called it the perfect American street. Neighborhood associations have planted trees, rebuilt sidewalks, and paved lumpy roads. Coalitions of unlikey ethnic mixes have formed and a lot of low-income housing has been built. Activists have temporarily shut down the Brooklyn-Queens Expressway and personally blocked a fire truck from abandoning the area. This year as the New York Marathon came panting down Bedford Avenue, a hundred Williamsburgers were there, dressed up in white sanitation suits to challenge the city's incinerator proposal. Protest here is a very dramatic enterprise.
This place has character, and by bullet-ridden necessity that character is progressive. This is the Wild West in the age of the computer, the video camera, and the fax machine. Ask the People's Firehouse, El Puente, or the Southside Political Action Committee. In the last couple of years Williamsburg residents have elected a progressive judge and one of the country's first latino Representives, Nydia Velazquez -a woman with a clear mandate to change the status quo. Holding a recent fundraiser at a Williamsburg art gallery, Velazquez is no stranger to the creative impulse.
Many artists I've met here have acknowledged the inter-relations between art, technology, the environment, and politics. Many have entered into the stream of community meetings, skills exchange networks, recycling systems, and park creation. They've built strange alliances with firemen, bakeries, and pubs. Rather than taking an oppositional, elitist stance towards their neighbors, a far more convivial sensibility has emerged -at least with some of the artists. On the heels of the cynical, disingenuous art culture of the 1980's, this inversion of orientation comes as a relief. Out of the stultifying, sanctimonious mausoleum of a Soho-centered cultural order we are thrown into the turmoil of local adventure and multivalent connection. New neural pathways are forming here and their catalyst, thank the universe, is emphatically not the solipsistic "art world." The catalyst is the entire world as we find it churning here on these Williamsburg streets.
I wrote this article with great doubt in my authority to describe the profusion of cultural fiber here. Despite my intentions to be democratic, my biases keep bleeding to the surface. To get some perspective, I strolled down to the end of Grand Street where the Waterfront Festival was in full salsa swing. I asked everyone I bumped into what they thought of our community:
Daniel Maisonet: "It's cool. The southside buildings are being renovated. City housing, affordable housing. Williamsburg is probably one of the smallest neighborhoods so there's a lot of unity."
Tawana McNeil: "There's too much shooting, too much drugs. But I like the jams, the block parties."
Mike Rodriguez: "I like the girls, man. They're too fine."
Anita Montanez: "There's too much drugs, shooting. The music ?having something like this festival is great."
Kevin Pyle: "I like the anonymity of it. I like the inherent post-industrial romanticism oozing and clanking from the street refuse."
Emily Ortiz: "I love Williamsburg. I love it because I know all the people. It's easy to get along with them. I grew up here. The gun shots don't bother me. In a way it does, but I go to Puerto Rico in the summer, and I don't like it. You need a car to get everywhere. Here the store is right down the street. There's a better chance to get an education, a job."
Robert Elmes: "I like the proximity to Manhattan. Manhattan is like a living, breathing reference library of all forms of human culture. Williamsburg gives me a perspective on all that. It's less intense here."
Ruth Kahn: "There's no fashion pressure."
Roi Babiak: "It's the interactive art community. People are so readily interested in working with each other. I like the cultural diversity. It's the interactive thing. I get the feeling like I'm in a neighborhood."
Al Arthur: "It's a gift."

--Ebon Fisher, 1993