Ebon Fisher
RECENT EVENTS


THE GOTHAMIST
with the Brooklyn Immersionists and an Installation by Ebon Fisher
Thursday, January 12, 2012
LINK: Photos, Videos, Articles & More from the Late '80s and Early '90s Williamsburg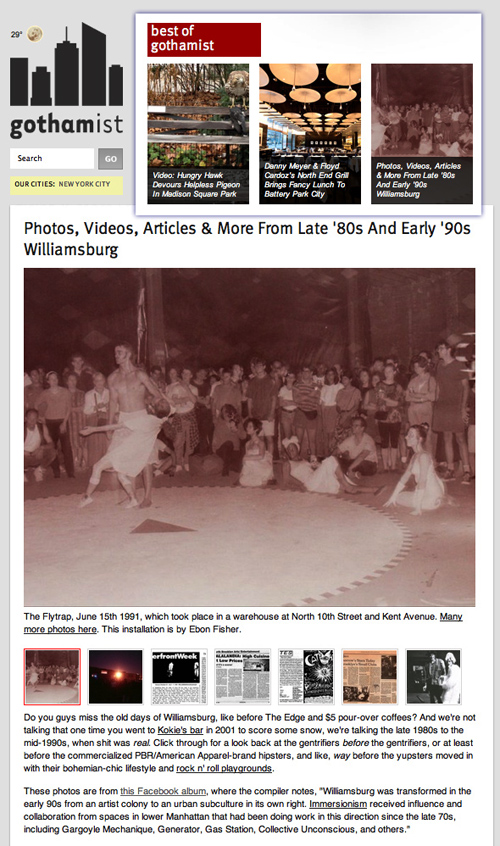 The story above references the Brooklyn Immersionists which Ebon Fisher co-founded. The image in the story includes a glimpse of the following installation by Fisher. It is being used by the Melanie Hahn Roché Dancers (Hahn, Stavit Allweiss and Keita Whitten are in the photo along with several other Roché dancers).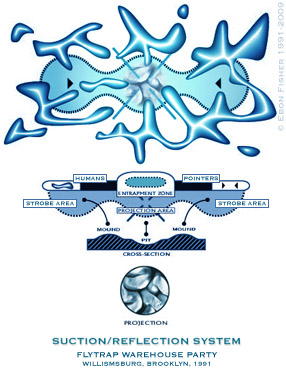 HUFFINGTON POST
Excerpt from April 19, 2011
LINK: Was the Hipster Really All that Bad?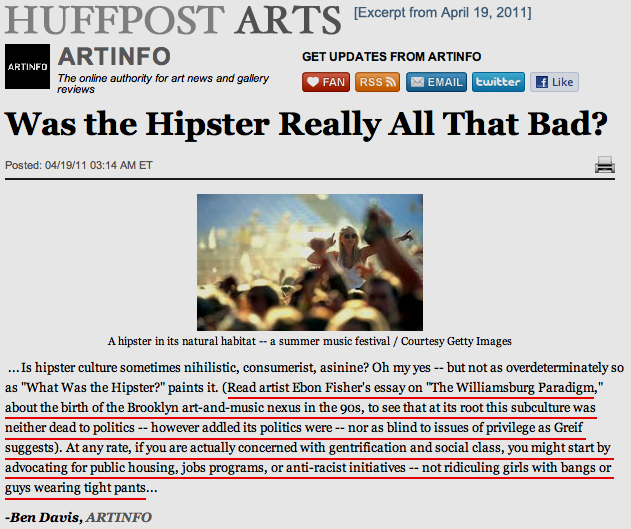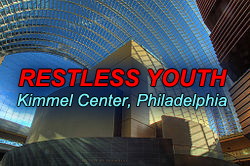 RESTLESS YOUTH
Monday, March 28, 2011

KIMMEL CENTER for the PERFORMING ARTS
Merck Arts Education Center
260 So. Broad Street
Philadelphia, PA 19102
.
The Philadelphia International Festival of the Arts (PIFA) presents conversations on
youth, technology and community with
.
EBON FISHER media artist, Member of the Faculty, Moore College of Art & Design
DR. DEVON POWERS Asst. Professor of Communication, Drexel University
ARI MELMAN Urban Playground, Philadelphia
YOUTH UNITED for CHANGE (various members)
ART & SPIRITUALITY CENTER (various members)
PHILADELPHIA STUDENT UNION (various members)

HOMER JACKSON Host

At Kimmel below: Ebon Fisher on left with microphone; Homer Jackson, center; Ari Melman, front right.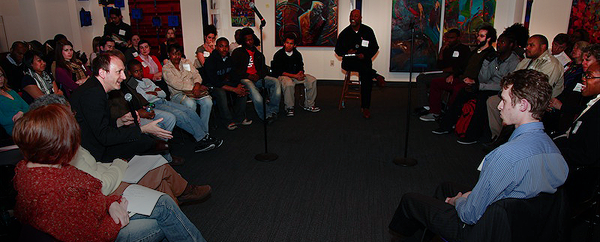 Photo by Tony Rocco
.


THE NEW YORK TIMES
Sunday, July 25, 2010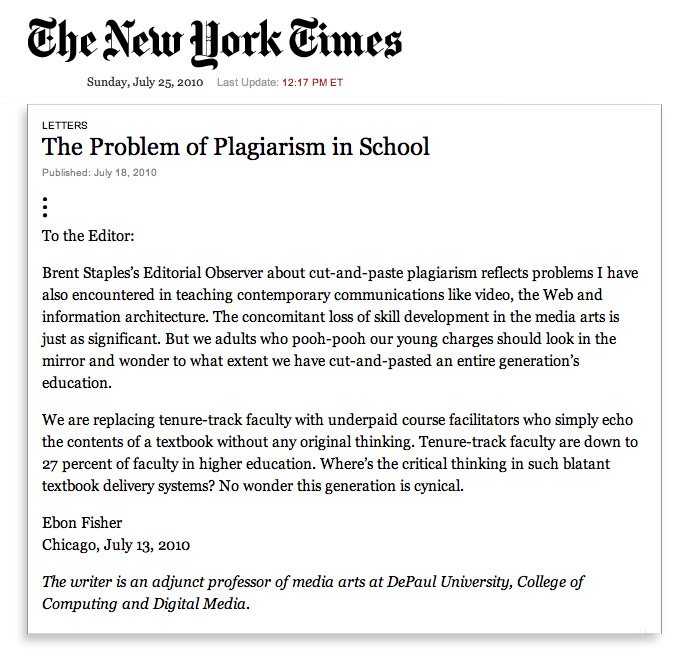 MoMA PREMIERE:
DOCUMENTARY ON THE BROOKLYN RENAISSANCE

"Brooklyn DIY" by Marcin Ramocki Premiering at
MUSEUM OF MODERN ART
The Roy and Niuta Titus Theater 1
11 West 53 Street, New York, NY 10019
February 25, 2009
Marcin Ramocki's new documentary includes interviews with Ebon Fisher whose information-sharing rituals played an important role in building creative networks of communication in North Brooklyn in the 1990s. Fisher's work appears in the film along with that of many other Brooklyn artists, musicians and writers.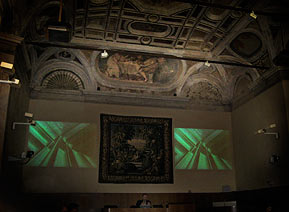 Ebon Fisher speaking at IT Revolutions, Venice, with projections
of the Nervepool's Hyperhive. Setting: The Refectory of the Convent of
San Salvador (11th & 12th Cent.). Frescoes by Fermo Ghisoni (16th Cent.)


BANQUET KEYNOTE
IT Revolutions Conference
Ebon Fisher
December 18, 2008

TELECOM ITALIA FUTURE CENTRE
San Marco, 4826
Campo San Salvador
Venice, Italy

Nervepool.net director, Ebon Fisher, presented his new web system for the Art & Technology program at the College of Arts & Letters, Stevens Institute of Technology. He also discussed his experimental media rituals and "Zoacodes" and premiered the theme song to his transmedia world, the Nervepool. The conference is chaired by computer scientist and Canada Research Chair, Mihaela Ulieru, of the University of New Brunswick and sponsored by the ICST and the IEEE.
Full Spectrum host, Brian Tate, with Zoacode at New York Theater Workshop

Audience at Full Spectrum


photos: Ed Marshall

FULL SPECTRUM PRESENTS:
THE SKEPTICS Panel Discussion
NEW YORK THEATRE WORKSHOP
Monday, October 27, 2008
NEW YORK THEATRE WORKSHOP
79 E. 4th St., New York, NY 10003
212-780-9037 · www.nytw.org
fsexperience.com
.
Full Spectrum and New York Theatre Workshop present THE SKEPTICS, a panel discussion with six creators whose work explores the ground between belief and uncertainty. Moderated by poet/historian Jennifer Michael Hecht.



PANELISTS (in photo left to right)
.
JENNIFER MICHAEL HECHT poet/historian, New School (moderator)
KYLE JARROW Obie Award winning writer/musician
CHITRA GANESH visual artist, Saatchi Gallery
HELEN WHITNEY Emmy Award winning filmmaker
EBON FISHER transmedia artist, Stevens Institute of Technology
FAITH ADIELE writer, University of Pittsburgh


EBON FISHER'S BIO-POSITIONING SYSTEMS
Strange Positioning Systems (SPS) at ArtSpace
Curated by Caterina Verde
.
Exhibition and lecture
September 25, 2008
ArtSPACE, New Haven, CT

A play on GPS tracking technology, STRANGE POSITIONING SYSTEM (SPS) examines the aesthetic, cultural and psychological peculiarities of positioning the self and collective enterprises in a fluid, electronically dislocated environment. Former performance curator for The Kitchen, NYC, and artist-in-residence with the American Center in Paris, Caterina Verde has recently launched SPS at ArtSPACE in New Haven, CT.
.
MORE INFO: StrangePositioningSystems.org
ZOACODE PROJECTIONS
Presented at a Symposium on Bioethics
The first of an annual forum on science, technology and values
Sponsored by the College of Arts & Letters, Stevens Institute of Technology
.
April 26, 2008
Babbio Center, 6th & River Streets
Stevens Institute of Technology
Hoboken, NJ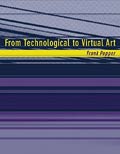 NEW BOOK by FRANK POPPER:
From Technological to Virtual Art (MIT Press, 2007)
.
New book by veteran historian of the technological arts, Frank Popper, includes
a section on the works of Ebon Fisher (see Bioesthetic Issues, p. 118)
LEONARDO MAGAZINE
Special Section on Live Art and the Internet

WIGGLISM: A Philosophoid Entity Turns Ten
by Ebon Fisher

Edited by Martha Wilson, director of the Franklin Furnace (Vol. 40, Issue 1, MIT Press, 2007)
.
ABSTRACT: The author describes The Wigglism Manifesto, a work authored amidst the fury of early exchange on the World Wide Web. The term Wigglism refers to a quality shared by biological and artificial life forms alike. The manifesto has taken an open-source approach to its cultivation, allowing numerous voices to nurture the entity into being. This collective approach to truth cultivation embodied by the manifesto was inspired in part, by the author's experiences with community-based media rituals in the North Brooklyn community before it gentrified in the mid-1990s. The project has affirmed its initiator's sense that cultivating a living system can be a vital alternative to traditional creative practices more aligned with manufacturing and commerce. See: Leonardo On-Line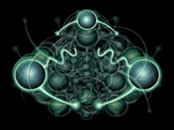 A GLIMPSE INTO THE NERVEPOOL
An installation which absorbed a few students
from the University of the Arts into
Ebon Fisher's Nervepool
.
Lecture and Exhibit
October 12 - November 2, 2006
GALLERY 817
University of the Arts
Philadelphia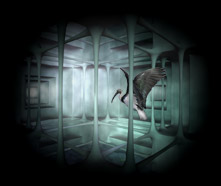 THE NERVEPOOL:
How Collective Media Rituals in Brooklyn Evolved into
a Transmedia Sanctuary for Multispecies Communion
Lecture by Ebon Fisher, September 26, 2006
.
IN-FLUX SPACE
University of Minnesota
Minneapolis, MN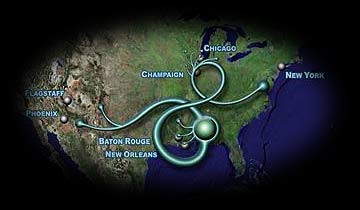 CODING CODRESCU
A Collaboration Between Ebon Fisher
and NPR Essayist, Andrei Codrescu
March, 2006

LINK TO PROJECT


CONFINEMENT & THE ART OF DECORATION
Habitats by Caterina Verde, Elise Martens & Gloria Zein
.
January 28 - March 18, 2006
Catalogue essay, "From Plumage to Plunder," by Ebon Fisher
ARTSPACE, New Haven, Connecticut, USA

TRANSFORMATIONS IN THE NERVEPOOL
The Rituals & Zoacodes of Ebon Fisher
January 9th - February 3rd, 2006
A Retrospective of Works by Ebon Fisher
UNIVERSITY OF NORTHERN IOWA GALLERY OF ART
Cedar Falls, Iowa.
Darrell Taylor, Director
.
PRESS
KWWL TELEVISION: Interview with gallery director, Darrell Taylor
THE WATERLOO CEDAR FALLS COURIER: "Ebon Fisher creates primordial soup of art, biology and new media"
THE NORTHERN IOWAN: "Art exhibit features building blocks of life"
CESIUM MAGAZINE: "The Nervepool Continued"

ABOVE: Zoacode Sanctuary with 6 slide projections and ambient music video
ABC NO RIO 25th ANNIVERSARY BENEFIT
Deitch Projects
October 20, 2005
18 Wooster Street, New York City
.
SILENT AUCTION including work by Ebon Fisher, Carl Andre, Hans Haacke, Mike Bidlo, Kathe Burkhart, Eric Drooker, Mike Estabrook, Fly, GRRRR.net, Vandana Jain, Joseph Nechvatal, Claes Oldenburg, Yoko Ono, Kiki Smith, Seth Tobocman, Anton Van Dalen and many others. PERFORMANCES by the Hungry Marching Band and guest DJs Dan Cameron and Carlo McCormick.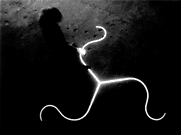 EBON FISHER: PUBLIC LECTURE
April 27th, 2005
.
FRED JONES JR. MUSEUM OF ART
University of Oklahoma
Oklahoma City, Oklahoma, USA
.
PRESS
THE OKLAHOMA DAILY "Cyber Artist Brings His Culture to Oklahoma University"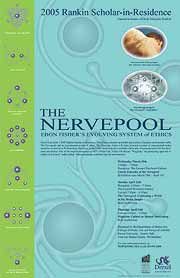 Ebon Fisher, 2005 Marjorie Rankin Scholar-in-Residence
LARVAL ZOACODES OF THE NERVEPOOL
LEONARD PERLSTEIN GALLERY
March/April, 2005
Nesbitt Hall, Drexel University
33rd & Market Streets, Philadelphia
Inliquid.com Presents

HYPER-RUNT
Co-curated by Ebon Fisher & Emily Zimmerman
THE NATIONAL BUILDING & ONLINE
Philadelphia Fringe Festival
Oct. 8 -14, 2004
.
RUNAWAY DIGITAL PHENOMENA BY
Bigtwin, Shawn Brixey, David Brody, Bradley Eros, klip//collective,
Ken Goldberg,  Natalie Jeremijenko, Yael Kanarek, Mark Napier, MTAA,
Joseph Nechvatal,  neuroTransmitter, and Caterina Verde.
.
EXHIBIT ONLINE with essay by Ebon Fisher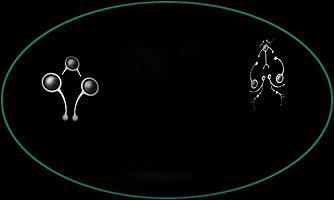 LARVAL ZOACODES
Experiments in Human Coding by Ebon Fisher
.
Curated by Justin Nostrala
FARNHAM GALLERIES
April 5 - 30, 2004
Simpson College
Indianola, Iowa, USA

UNFURL A SYSTEM OF LOVE
Projections of Zoacodes at the Lille Arts Festival
Lille, France, November, 2004
Part of a project by Robert Elmes for Monde Parallele - New York
.
ABOVE: Projections by Bradley Eros and Robert Elmes are to the left and right of Zoacode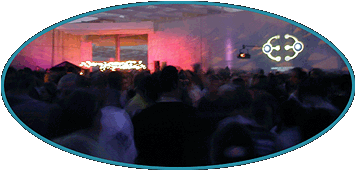 EQUALIZE SEDUCTION
Zoacode at P.S.1/MOMA, 2000
.
Event in the PS1 Sculpture Garden curated by Robert Elmes
__________________
© Ebon Fisher 2011