--RITES--
--1--
Gather beings into a circle.
--2--
Gather media into a circle around the beings.
--3--
Initiate a set of rhythms, organic and synthetic.
--4--
Share media in order of increasing complexity (spoken word to hardcopy to radio to television to the internet). Merge each ensuing wave of media until the stimuli become unbearable.
--5--
Induce total blackout and silence.
--6--
In the darkness discuss and integrate impressions.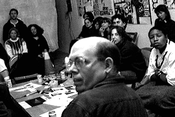 .....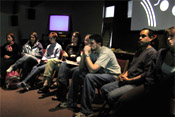 LEFT: Media Compression, Williamsburg, Brooklyn, 1990 (Jon Rubin, foreground)
RIGHT: Media Compression, Simpson College, Iowa, 2004