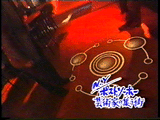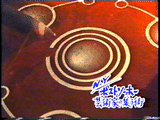 "BYPASS ELITIST NODE" presented by Tetsuo Suda on "Oh My NY!," Fuji Television, 1997. The broadcast was live via satellite from Galapagos Art Space, Williamsburg, Brooklyn, to 10 million Japanese morning viewers.

ABOVE: Bionic Codes absorbed into Mute Magazine, London, 1997. Other magazine appearances include KGB, Wired, New York Magazine, New York Press, Sandbox, Coil, and websites such as Word, Centre International d'Art Contemporain de Montreal, The MIT Media Lab, "Art Dirt" on Pseudo Online Radio, Artnetweb, Rhizome, The Encyclopedia Britannica and the Guggenheim Museum's website.

Student notes, University of Wales College, 1997.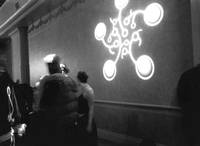 .....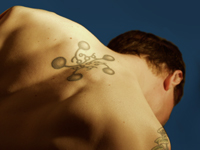 LEFT: Projection of "EXALT IN RANDOM CONNECTIONS" at Substation, a multimedia rave in the old Warhol Ballroom, New York, 1997.

RIGHT: Environmental Anthropologist, Erich Schienke, with a tattoo of the same code, which he first encountered in Wired Magazine. The text component of the code is stored in his mind.

Projections in other New York venues included The Limelight, El Sensorium, Room Temperature, Galapagos, The Kitchen, and a rave in the Brooklyn Anchorage.



"ORBIT PROBES VIA MUTUAL SPIN" tattooed on the shoulder of Canadian biker/programmer Geoff Wilson. Wilson, from British Columbia, first encountered the bionic codes over the internet.